The Advantage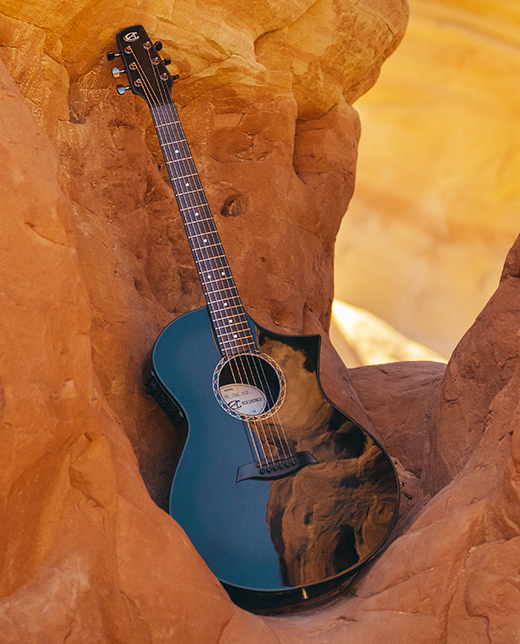 Composite Acoustics has created a revolution in guitar design: driven by innovation, we have replaced traditional materials with carbon fiber — a man-made composite that is stronger, lighter and more consistent. Carbon fiber has been utilized in every application imaginable where strength and lightness are required. From aerospace to automotive, from racing yachts to formula-one cars to racing bikes — carbon fiber is the material of choice. We just took the next logical step: make musical instruments out of it.
Composite materials allow us to break with tradition in more than one way. Molding a one-piece body enables us to shape the form of an acoustic guitar to the contours of the player's body. Our guitars are lighter, stronger and more comfortable as a result. Our soundboards are extremely responsive, making for a very clear and powerful guitar. Each guitar is hand-crafted, yet employs computer guidance to control precise tolerances from design to assembly.
Our necks are so strong and stiff that they never need adjusting, no matter what. You can play without buzzing — anytime, anywhere. They are also smooth and lightning fast as a result of our precision set-up.
Because of the impervious nature of our designs, Composite Acoustics guitars are the ideal choice for the gigging musician, the touring and recording artist, or anyone who likes to take his or her guitar out and play. No worries, no hassles, just great sound. These are no museum pieces — they're meant to be played hard.
On stage or in the studio, playing a coffee shop, in your room or anywhere in the great outdoors — a guitar that always sounds great, stays in tune and is tough as nails is a sure winner.
At Composite Acoustics, we are proud of our Fine Carbon Guitars — from musicians, for musicians, made in the USA. Our unique production process combines extensive hand-crafting with cutting edge technology such as CAD design and CNC machining. We believe that we make the most innovative, consistent, best-sounding and most durable guitar in the world. Go play — you'll see for yourself.
Peavey Composite Acoustics and Raincatchers
Composite Acoustics, Peavey's line of premium carbon fiber acoustic guitars, partnered with members of the clean water organization Raincatchers to bring guitar instruction and enjoyment to the people of Haiti.
Watch More
Composite Acoustics Artist Brantley Gilbert
Brantley Gilbert loves the signature sound of his Peavey Composite Acoustics GX Carbon Burst guitar. This finely crafted instrument provides everything and more for his soulful blend of Country and hard-hitting Rock N' Roll. Watch him perform and see for yourself.
Watch More